How to Make A Free Design Board
Updated: Aug 17, 2022
Start With a Blank Powerpoint Slide
Find the Product You Want
Head to your website of choice, find your product, and choose an image that is most like a stock photo with a white or contrasting background if possible. Right-click, and choose 'Copy Image.' If this option doesn't appear, you can screenshot the image. On a Mac, hold 'shift+command+4' and drag the box around the image. It will automatically save to your desktop folder. On a PC, use the snippet tool and copy from there.
Paste Your Image
Right click on your blank slide, and choose paste. If you had to screenshot your image on a Mac, click the 'Insert' tab at the top left, and choose 'Picture' and then 'Picture from file.' You will be able to quickly find the screenshot in your desktop folder.
Remove Background
Double click your image and a remove background button should appear at the far left under the 'Picture Format' tab at the top.
Fine Tune Your Image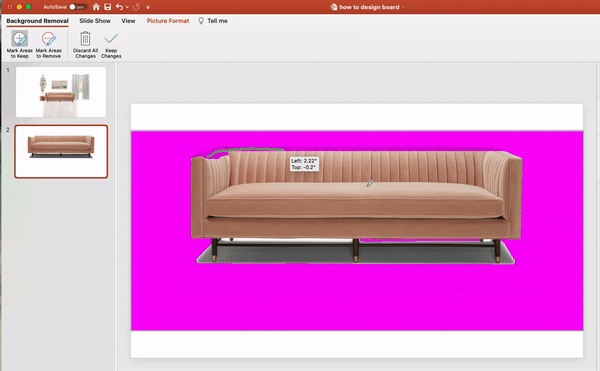 Once you click on the 'Remove Background' button, pink areas will appear around your product. First, you will want to make sure to expand the box that appears so that your entire product is inside of it. Then click on background areas in the photo that you want to add or remove by using the + and – buttons. You can either click or draw lines as shown above. When you're finished, click "keep changes." (Sometimes there will be images that will not work and in that case I still move the image into place and leave the white background or crop as much around it as I can).
Resize Your Image
Resize your image and move it into place!
Continue Adding Products
When adding images, first remove the background and then you may have to send some backward or bring some forward in order to layer them properly.
Keep Decorating!!
I like to keep adding items! Add in windows where there are windows in your room. Draw shiplap with lines. You can try a bunch of different pillow options to see which you like best! It is so fun once you get the hang of it! Happy Decorating! Tag me in stories and share your designs!